HAITI IN CARIBBEAN MAP
MAP OF HAITI
FLAG OF HAITI
GOVERNMENT
The government of Haiti is a semi-presidential republic, a multiparty system wherein the President of Haiti is head of state elected directly by popular elections. The Prime Minister acts as head of government and is appointed by the President, chosen from the majority party in the National Assembly.
POPULATION
The current population of Haiti is 11,12 million (2018) 
During 2016 Haiti population is projected to increased by 148 115 people and reach 10 935 771 in the beginning of 2017. The natural increase is expected to be positive, as the number of births will exceed the number of deaths by 179 399. If external migration will remain on the previous year level, the population will be declined by 31 284 due to the migration reasons. It means that the number of people who leave Haiti to settle permanently in another country (emigrants) will prevail over the number of people who move into the country (to which they are not native) in order to settle there as permanent residents (immigrants).
LANGUAGES
The two official languages of Haiti are French and Haitian Creole. French is the principal written and administratively authorized language (as well as the main language of the press) and is spoken by 42% of Haitians. It is spoken by all educated Haitians, is the medium of instruction in most schools, and is used in the business sector. It is also used in ceremonial events such as weddings, graduations and church masses.
Haiti is one of two independent nations in the Americas (along with Canada) to designate French as an official language; the other French-speaking areas are all overseas départements, or collectivités, of France. Haitian Creole, which has recently undergone a standardization, is spoken by virtually the entire population of Haiti. Haitian Creole is one of the French-based creole languages. Its vocabulary is 90% derived from French, but its grammar and influences are from some West African, Taino, Spanish, and Portuguese languages. Haitian Creole is related to the other French creoles, but most closely to Antillean Creole and Louisiana Creole variants.
CURRENCY
The Haitian gourde (HTG) is the national currency. The "Haitian dollar" equates to 5 gourdes (goud), which is a fixed exchange rate that exists in concept only, but are commonly used as informal prices.
The vast majority of the business sector and individuals in Haiti will also accept US dollars, though at the outdoor markets gourdes may be preferred. Locals may refer to the USD as "dollar américain" (dola ameriken) or "dollar US" (pronounced oos).
GEOGRAPHY
Haiti is on the western part of Hispaniola, the second largest island in the Greater Antilles. Haiti is the third largest country in the Caribbean behind Cuba and the Dominican Republic (the latter shares a 360-kilometre (224 mi) border with Haiti). Haiti at its closest point is about 45 nautical miles (83 km; 52 mi) away from Cuba and comprises the horseshoe-shape peninsula and because of this, it has a disproportionately long coastline and is second in length (1,771 km or 1,100 mi) in the Greater Antilles. Cuba has the longest.
Haiti's terrain consists mainly of rugged mountains interspersed with small coastal plains and river valleys. The climate is tropical, with some variation depending on altitude. Haiti is the most mountainous nation in the Caribbean and its highest point is Pic la Selle, at 2,680 metres (8,793 ft).
The northern region consists of the Massif du Nord (Northern Massif) and the Plaine du Nord (Northern Plain). The Massif du Nord is an extension of the Cordillera Central in the Dominican Republic. It begins at Haiti's eastern border, north of the Guayamouc River, and extends to the northwest through the northern peninsula. The lowlands of the Plaine du Nord lie along the northern border with the Dominican Republic, between the Massif du Nord and the North Atlantic Ocean.
The central region consists of two plains and two sets of mountain ranges. The Plateau Central (Central Plateau) extends along both sides of the Guayamouc River, south of the Massif du Nord. It runs from the southeast to the northwest. To the southwest of the Plateau Central are the Montagnes Noires, whose most northwestern part merges with the Massif du Nord. Its westernmost point is known as Cap Carcasse.
The southern region consists of the Plaine du Cul-de-Sac (the southeast) and the mountainous southern peninsula (also known as the Tiburon Peninsula). The Plaine du Cul-de-Sac is a natural depression that harbors the country's saline lakes, such as Trou Caïman and Haiti's largest lake, Étang Saumatre. The Chaîne de la Selle mountain range – an extension of the southern mountain chain of the Dominican Republic (the Sierra de Baoruco) – extends from the Massif de la Selle in the east to the Massif de la Hotte in the west. This mountain range harbors Pic la Selle, the highest point in Haiti at 2,680 metres (8,793 ft).
Haiti's most important valley in terms of crops is the Plaine de l'Artibonite, which is oriented south of the Montagnes Noires. This region supports the country's (also Hispaniola's) longest river, the Riviere l'Artibonite, which begins in the western region of the Dominican Republic and continues most of its length through central Haiti and onward where it empties into the Golfe de la Gonâve. The eastern and central region of the island is a large elevated plateau.
Haiti also includes various offshore islands. The island of Tortuga (Île de la Tortue) is located off the coast of northern Haiti. The arrondissement of La Gonâve is located on the island of the same name, in the Golfe de la Gonâve. Gonâve Island is moderately populated by rural villagers. Île à Vache (Cow Island), a lush island with many beautiful sights, is located off the tip of southwestern Haiti. Also part of Haiti are the Cayemites and Île d' Anacaona. La Navasse located 40 nautical miles (46 mi; 74 km) west of Jérémie on the south west peninsula of Haiti, is subject to an ongoing territorial dispute with the United States.
CLIMATE
Haiti's climate is tropical with some variation depending on altitude. Port-au-Prince ranges in January from an average minimum of 23 °C (73.4 °F) to an average maximum of 31 °C (87.8 °F); in July, from 25–35 °C (77–95 °F). The rainfall pattern is varied, with rain heavier in some of the lowlands and on the northern and eastern slopes of the mountains.
Port-au-Prince receives an average annual rainfall of 1,370 mm (53.9 in). There are two rainy seasons, April–June and October–November. Haiti is subject to periodic droughts and floods, made more severe by deforestation. Hurricanes are also a menace.
ECONOMY
Haiti's purchasing power parity GDP fell 8% in 2010 (from US$12.15 billion to US$11.18 billion) and the GDP per capita remained unchanged at PPP US$1,200. Despite having a viable tourist industry, Haiti is one of the world's poorest countries and the poorest in the Americas region, with poverty, corruption, poor infrastructure, lack of health care and lack of education cited as the main sources. The economy receded due to the 2010 earthquake and subsequent outbreak of Cholera. Haiti ranked 145 of 182 countries in the 2010 United Nations Human Development Index, with 57.3% of the population being deprived in at least three of the HDI's poverty measures.
Following the disputed 2000 election and accusations about President Aristide's rule, US aid to the Haitian government was cut off between 2001 and 2004. After Aristide's departure in 2004, aid was restored and the Brazilian army led a United Nations Stabilization Mission in Haiti peacekeeping operation. After almost four years of recession, the economy grew by 1.5% in 2005. In September 2009, Haiti met the conditions set out by the IMF and World Bank's Heavily Indebted Poor Countries program to qualify for cancellation of its external debt.
More than 90 percent of the government's budget comes from an agreement with Petrocaribe, a Venezuela-led oil alliance.
TOURISM
In 2014, the country received 1,250,000 tourists (mostly from cruise ships), and the industry generated US$200 million in 2014. In December 2014, the US State Department issued a travel warning about the country, noting that while thousands of American citizens safely visit Haiti each year, a few foreign tourists had been victims of burglary, predominantly in the Port-au-Prince area.
Several hotels were opened in 2014, including an upscale Best Western Premier, a five-star Royal Oasis hotel by Occidental Hotel and Resorts in Pétionville, a four-star Marriott hotel in the Turgeau area of Port-au-Prince and other new hotel developments in Port-au-Prince, Les Cayes, Cap-Haïtien and Jacmel. Other tourist destinations include Île-à-Vache, Camp-Perrin, and Pic Macaya.
The Haitian Carnival has been one of the most popular carnivals in the Caribbean. In 2010, the government decided to stage the event in a different city outside Port-au-Prince every year in an attempt to decentralize the country. The National Carnival – usually held in one of the country's largest cities (i.e., Port-au-Prince, Cap-Haïtien or Les Cayes) – follows the also very popular Jacmel Carnival, which takes place a week earlier in February or March.
TRANSPORT
Haiti has two main highways that run from one end of the country to the other. The northern highway, Route Nationale No. 1 (National Highway One), originates in Port-au-Prince, winding through the coastal towns of Montrouis and Gonaïves, before reaching its terminus at the northern port Cap-Haïtien. The southern highway, Route Nationale No. 2, links Port-au-Prince with Les Cayes via Léogâne and Petit-Goâve.
According to the Washington Post, "Officials from the U.S. Army Corps of Engineers said Saturday [23 January 2010] that they assessed the damage from the [12 January] quake in Port-au-Prince, Haiti, and found that many of the roads aren't any worse than they were before because they've always been in poor condition."
The port at Port-au-Prince, Port international de Port-au-Prince, has more registered shipping than any of the other dozen ports in the country. The port's facilities include cranes, large berths, and warehouses, but these facilities are not in good condition. The port is underused, possibly due to the substantially high port fees. The port of Saint-Marc is currently the preferred port of entry for consumer goods coming into Haiti. Reasons for this may include its location away from volatile and congested Port-au-Prince, as well as its central location relative to numerous Haitian cities.
During the 2010 earthquake, the Port-au-Prince port suffered widespread damage, impeding aid to the victims. The main pier caved in and fell into the water. One of the main cranes also collapsed in the water. Port access roads were severely damaged as well.
In the past, Haiti used rail transport, however the rail infrastructure was poorly maintained when in use and cost of rehabilitation is beyond the means of the Haitian economy.
Airports
Toussaint Louverture International Airport is located 10 kilometres (6.2 mi) North/North East of Port-au-Prince. It has Haiti's main jetway, and along with Hugo Chavez International Airport located near Cap-Haïtien, handles the vast majority of the country's international flights. To travel on from the international airport at Port-au-Prince to other Haitian cities requires boarding a smaller plane. Cities such as Jacmel, Jérémie, Les Cayes, and Port-de-Paix have airports that are accessible by smaller aircraft. Companies that fly to these airports include: Caribintair, Sunrise Airways and Tortug' Air.
In 2013, plans for the development of an international airport on Île-à-Vache were introduced by the Prime Minister.
Bus service
Tap tap buses are colorfully painted buses or pick-up trucks that serve as share taxis. The "tap tap" name comes from the sound of passengers tapping on the metal bus body to indicate they want off. These vehicles for hire are often privately owned and extensively decorated. They follow fixed routes, do not leave until filled with passengers, and riders can usually disembark at any point. The decorations are a typically Haitian form of art.
In August 2013, the first coach bus prototype was made in Haiti.
COMMUNICATIONS
In Haiti, communications include the radio, television, fixed and mobile telephones, and the Internet. Haiti ranked last among North American countries in the World Economic Forum's Network Readiness Index (NRI) – an indicator for determining the development level of a country's information and communication technologies. Haiti ranked number 143 out of 148 overall in the 2014 NRI ranking, down from 141 in 2013.
RELIGION
The 2015 CIA Factbook, reported that around 80% of Haitians profess to be Catholics while Protestants made up about 16% of the population (Baptist 10%, Pentecostal 4%, Adventist 1%, other 1%). Other sources put the Protestant population higher than this, suggesting that it might have formed one-third of the population in 2001. Haitian Cardinal Chibly Langlois is president of the National Bishops Conference of the Catholic Church.
Vodou, a religion with African roots similar to those of Cuba and Brazil, originated during colonial times in which slaves were obliged to disguise their loa or spirits as Roman Catholic saints, an element of a process called syncretism and is still practiced by some Haitians today. Since the religious syncretism between Catholicism and Vodou, it is difficult to estimate the number of Vodouists in Haiti.
Minority religions in Haiti include Islam, Bahá'í Faith, Judaism, and Buddhism.
CULTURE
Haiti has a unique cultural identity consisting of a large blend of traditional customs of French and African, mixed with sizeable contributions from the Spanish and indigenous Taíno culture. The country's customs essentially are a blend of cultural beliefs that derived from the various ethnic groups that inhabited the island of Hispaniola. Haiti's culture is greatly reflected in its paintings, music, and literature. Galleries and museums in the United States and France have exhibited the works of the better-known artists to have come out of Haiti.
CUISINE
Haitian cuisine originates from several culinary styles from the various historical ethnic groups that populated the western portion of the island of Hispaniola. Haitian cuisine is similar to the rest of the Latin-Caribbean (the French and the Spanish-speaking countries of the Antilles), however it differs in several ways from its regional counterparts. While the cuisine is unpretentious and simple, the flavors are bold and spicy that demonstrate a primary influence of African culinary aesthetic, paired with a very French sophistication with notable derivatives coming from native Taíno and Spanish techniques. Though similar to other cooking styles in the region, it carries a uniqueness native to the country, many visitors to the island have mixed reviews of Haitian cuisine. Haitians often use peppers and other strong flavorings.
Dishes tend to be seasoned liberally. Consequently Haitian cuisine is often moderately spicy. In the country, however, several foreign cuisines have been introduced. These include Levantine from Arab migration to Haiti. Rice and beans in several differing ways are eaten throughout the country regardless of location, becoming a sort of national dish. They form the staple diet, which consists of a lot of starch and is high in carbohydrates. Rural areas, with better access to agricultural products, have a larger variety of choices.
One such dish is mais moulu (mayi moulen), which is comparable to grits that can be eaten with sauce pois (sòs pwa), a bean sauce made from one of many types of beans such as kidney, pinto, chickpeas, or pigeon peas (known in some countries as gandules). Mais moulin can be eaten with fish (often red snapper), or alone depending on personal preference. Some of the many plants used in Haitian dishes include tomato, oregano, cabbage, avocado, bell peppers. A popular food is banane pesée (ban-nan'n peze), flattened plantain slices fried in cooking oil (known as tostones in the Spanish speaking Latin American countries). It is eaten both as a snack and as part of a meal is, often eaten with tassot and griot (deep-fried goat and pork).
Traditionally, the food that Haitians eat on the independence day (1 January) is soup joumou. Haiti is also known internationally for its rum; Rhum Barbancourt is the most popular alcoholic beverage in Haiti, and it is regarded highly by international standards.
EDUCATION
The educational system of Haiti is based on the French system. Higher education, under the responsibility of the Ministry of Education, is provided by universities and other public and private institutions.
More than 80% of primary schools are privately managed by nongovernmental organizations, churches, communities, and for-profit operators, with minimal government oversight. According to the 2013 Millennium Development Goals (MDG) Report, Haiti has steadily boosted net enrollment rate in primary education from 47% in 1993 to 88% in 2011, achieving equal participation of boys and girls in education. Charity organizations, including Food for the Poor and Haitian Health Foundation, are building schools for children and providing necessary school supplies. According to CIA 2015 World Factbook, Haiti's literacy rate is now 60.7% (est. 2015).
The January 2010 earthquake, was a major setback for education reform in Haiti as it diverted limited resources to survival.
Many reformers have advocated the creation of a free, public and universal education system for all primary school-age students in Haiti. The Inter-American Development Bank estimates that the government will need at least US$3 billion to create an adequately funded system.
Upon successful graduation of secondary school, students may continue into higher education. The higher education schools in Haiti include the University of Haiti. There are also medical schools and law schools offered at both the University of Haiti and abroad. Presently, Brown University is cooperating with L'Hôpital Saint-Damien in Haiti to coordinate a pediatric health care curriculum.
HEALTH
In the past, children's vaccination rates have been low – as of 2012, 60% of the children in Haiti under the age of 10 were vaccinated, compared to rates of childhood vaccination in other countries in the 93–95% range. Recently there have been mass vaccination campaigns claiming to vaccinate as many as 91% of a target population against specific diseases (measles and rubella in this case). Most people have no transportation or access to Haitian hospitals.
The World Health Organization cites diarrheal diseases, HIV/AIDS, meningitis, and respiratory infections as common causes of death in Haiti. Ninety percent of Haiti's children suffer from waterborne diseases and intestinal parasites. HIV infection is found in 1.8% of Haiti's population. The incidence of tuberculosis (TB) in Haiti is more than ten times as high as in the rest of Latin America. Approximately 30,000 Haitians fall ill with malaria each year.
Most people living in Haiti are at high risk for major infectious diseases. Food or water-borne diseases include bacterial and protozoal diarrhea, typhoid fever and hepatitis A and E; common vector-borne diseases are dengue fever and malaria; water-contact diseases include leptospirosis. Roughly 75% of Haitian households lack running water. Unsafe water, along with inadequate housing and unsanitary living conditions, contributes to the high incidence of infectious diseases. There is a chronic shortage of health care personnel and hospitals lack resources, a situation that became readily apparent after the January 2010 earthquake. The infant mortality rate in Haiti in 2013 was 55 deaths per 1,000 live births, compared to a rate of 6 per 1,000 in other countries.
BEST TOURIST ATTRACTION PLACES IN HAITI
Petionville
Petionville is one of the well-liked tourist attractions in Haiti. It is located in the country's capital city and is quite a popular area in Port-au-Prince. Here you will find a lot of the modern amenities, which is a welcome treat after a day's worth of touring a Caribbean heaven.
You can take a few hours off dining in restaurant or looking for great deals in one of the many shops. Other than shopping or dining, you can also experience the country's educational inheritance. There is a lot of cultural institution in Petionville that you can visit.
Plaine du Cul de Sac
This is an accepted landmark in Haiti and is also a significant tourist appeal. It is located near the country's border with the Dominican state. It's a great place for those who want to go nature tripping since this huge stretch of lush land features rare species of nature including herons, flamingos, and ducks.
Barbancourt Rum Distillery
There are those who associate the Caribbean with rum for some reason. Maybe it is due to the fact that some of the best rums you can ever sample are made here. If you want to some of the best rums in the country then you should pay a appointment to the Barbancourt Rum Distillery. This brewery is a popular tourist magnetism that demonstrates to visitors how rum is made. Not only do you get a tour and a rum production demonstration, you will also be treating to a free sample after the tour.
Citadelle Laferriere
If you are into historic sites and would like to see on in Haiti then you should visit Citadelle Laferrirere. Not only is this a popular tourist attraction, it is also a major landmark in the country. It is an old fortress built on a large ton in the northern reaches of the country. It was affirmed as a UNESCO World Heritage Site and is also an icon among the locals. The construction of this fortress ongoing in 1805.
Labadie Island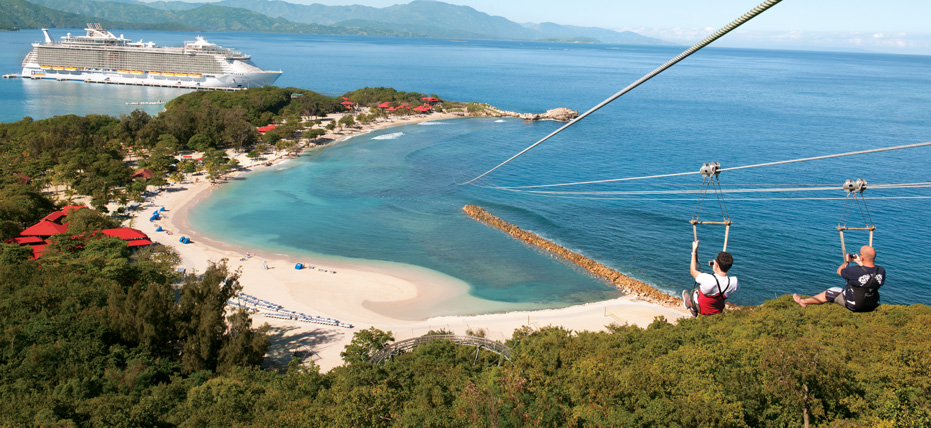 This could well be the biggest tourist magnetism in the whole of Haiti if not the most popular one. Labadie Island is best known for her indisputable scenic beauty. Visitors can take a cruise all approximately the island and enjoy the scenery. If you want to take a dip in the cool Caribbean waters then you can go beach jump or dive in one of the bays and leave the different reefs.
Amiga Island
This island is bounded by a good-looking beach but its beauty is further established as you dive into the clear waters. It is a well optional spot for snorkeling. The beautiful undersea life, coral formation, and reefs are only a yards away from the beach, which makes it quite an attractive tourist magnetism in Haiti.