Tourism in Haiti is an industry that has generated just under a million arrivals in 2012, and is one of the main sources of revenue for the island. With its favorable climate, second longest coastline of beaches and most mountainous ranges in the Caribbean, waterfalls, underground caves, colonial architecture and distinct cultural history, Haiti has had its history as an attractive destination for tourists. However, unstable governments have long contested its history and the country's economic development throughout the 20th century.
THE HAITI BEACHES
The Haiti beaches easily figure among the most beautiful beaches in the world. Many are quite pristine in nature and are backed by lush vegetation and forested hills or mountains. Golden-white sands mix with palm trees in many a coastal spot, and clear, turquoise-blue waters are in good supply. Add in the warm year-round weather, and it only becomes more evident that Haiti is a destination to keep in mind when planning that next great beach escape. Several beach hotels cater to Haiti visitors who are looking to enjoy some fun in the coastal sun, and there are opportunities to arrange trips to exotic islets if that should prove tempting.
LABADEE BEACHES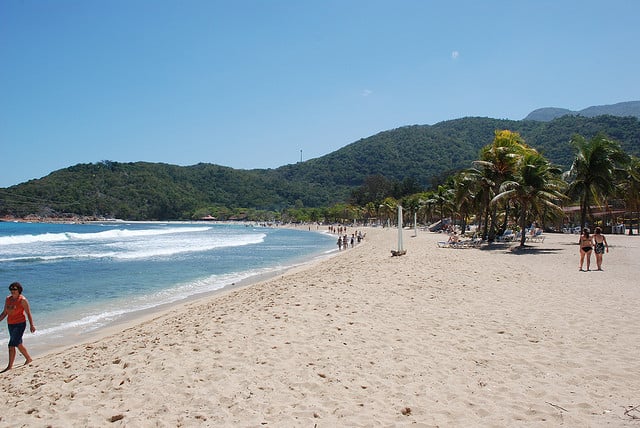 Labadee, or Labadie, as it is also commonly spelled, is among the most highly visited Haiti beach destinations. You can find this resort area on the northern coast, and it is privately owned by the Royal Caribbean International cruise line. Only Royal Caribbean cruise passengers are allowed within the gated realms of Labadee, and there are no less than five beaches that await them upon arrival. Dazzling rock formations and varying types of sand help to characterize the Labadee beaches, and there are plenty of activity options that beachgoers can get into. There is even a Labadee beach that has aquatic fun park, and if you book a suite on a Royal Caribbean cruise that visits the resort, you can enjoy exclusive access to a wonderful beach club.
CHOUCHOU BAY BEACH
The city of Jacmel offers some excellent beaches and helps to make the southern coast of a Haiti a recommendable destination for beach lovers. Many Haiti visitors understandably turn their attention to the northern side of the country, however, as that is where Labadee and several other top rated Haiti beaches can be found. Another example of a tantalizing North Haiti beach is Chouchou Bay Beach. A renowned strip of sand, Chouchou Bay Beach entices the traveler with its tranquil atmosphere and its spectacular scenery. Mountains provide a breathtaking backdrop, as do numerous trees that can also provide shady respite from the hot Caribbean sun. The historic town of Port Margot is more specifically where you can find Chouchou Bay Beach. This puts it approximately 15 miles from the larger city of Cap Haitian.
ILS-A-RAT BEACH
The history of Haiti includes a visit from Christopher Columbus. While in the area, the famous explorer gave name to a tiny Haitian island. That island, Ils-A-Rat, is no bigger than a city block, but what it lacks in size, it more than makes up for in appeal. Sumptuous beaches surround the inland area, which is dominated by lush vegetation. Meeting the sand are clear waters that are full of coral reefs, so there are excellent snorkeling and scuba diving opportunities. Ils-A-Rat can also make for a great place to have a picnic, and many visitors also indulge in some swimming and sunbathing. Regardless of how you choose to spend your time on the diminutive island of Ils-A-Rat, chances are good that you won't want to leave when it comes time to return to the North Haiti mainland.
PORT SALUT BEACH
Back down on the southern coast of Haiti is where you will find a beach destination that is starting to attract a considerable amount of attention. This destination is known as Port Salut, and much of its allure lies in its beautiful beaches. Not yet a major tourist destination, Port Salut offers very relaxing and tranquil strips of sand, the likes of which are increasingly being enjoyed by both local Haitians and international tourists alike. Also, because of the town's location on the west side of a peninsula, its beaches are often terrific places to watch sunsets. For those who are interested in a Port Salut beach hotel recommendation, the Dan's Creek Hotel is certainly worth keeping in mind. It has its own small beach and offers proximity to Port Salut's public beaches.
ISLANDS OF HAITI
GONÂVE ISLAND
Gonâve Island (French: Île de la Gonâve, also La Gonâve) is an island of Haiti located west-northwest of Port-au-Prince in the Gulf of Gonâve. It is the largest of the Hispaniolan satellite islands. The island is an arrondissement (La Gonâve Arrondissement) in the Ouest and includes the communes of Anse-à-Galets and Pointe-à-Raquette. The indigenous Taínos called the island Guanabo.
LES CAYEMITES
PETITE CAYEMITE
GRAND CAYEMITE
The Cayemites are a pair of islands located in the Gulf of Gonâve off the coast of southwest Haiti. The two islands, known individually as Grand Cayemite and Petite Cayemite, are a combined 45 square kilometres (17 square miles) in area. Petite Cayemite lies just west of the larger island, Grande Cayemite. The islands are approximately 35 kilometres (22 mi) east of the city of Jérémie and are in the administrative department of Grand'Anse.
TORTUGA ISLAND
Tortuga Island (French: Île de la Tortue, Turtle Island) is a Caribbean island that forms part of Haiti, off the northwest coast of Hispaniola. It constitutes the commune of Île de la Tortue in the Port-de-Paix arrondissement of the Nord-Ouest Department of Haiti.
Tortuga is 180 square kilometres (69 square miles) in size and had a population of 25,936 at the 2003 Census. In the 17th century, Tortuga was a major center and haven of Caribbean piracy. Its tourist industry and reference in many works has made it one of the most recognized regions of Haiti.
GRANDE CAYE
Grande Caye (Haitian Creole: Gwòskay) is an island of Haiti which is located in the Sud Department west of Île-à-Vache which is located a bit further east, in the Baie des Cayes (Bay of the Cayes) and north of the Canal du Sud. About 500 meters away lies a coral reef called the Petite Caye.
NAVASSA ISLAND (claimed by both Haiti and the United States.)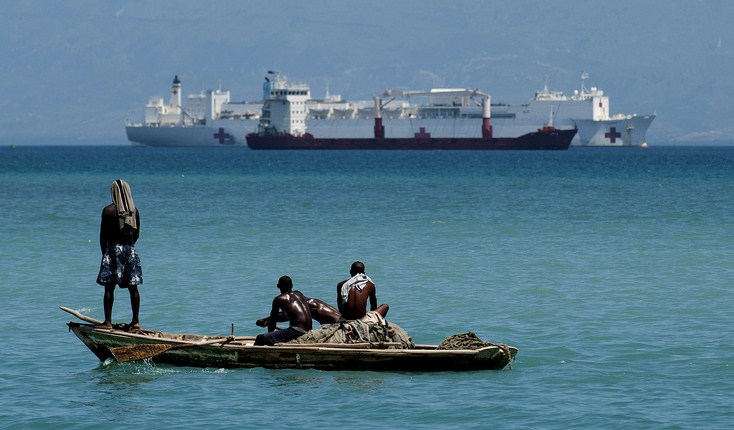 Navassa Island is a small, uninhabited island in the Caribbean Sea. It is administered as unorganized unincorporated territory of the United States, which administers it through the U.S. Fish and Wildlife Service.
Haiti has claimed sovereignty over Navassa since 1801 and claims the island in its constitution, disputing the U.S. claim.